Use the booking form above to reach us. You may also want to read more about our inverter repair service.
Welcome to repair.ng. a subsidiary of Wavetra Energy LTD – a leading solar company in Nigeria. We are experts in the repair of Solar power inverters here in Nigeria. Repair Sukam, Victron, Lionrock,prag,smk,Genus, Luminous, soccer,save power, Ericko, lento, srne, Aims LF series, Schneider, must power, Eastman, Kartel, Bluegate, sunkam DSP, I power, power star and other inverter brands in Nigeria with repair.ng
We fix various kinds of Inverters like:
Pure sine wave inverters
Modified sine wave inverters
Solar/Hybrid Inverters
High frequency Inverters
Low frequency Inverters.
Some of the common Inverter problems that we have repaired so far includes but not limited to: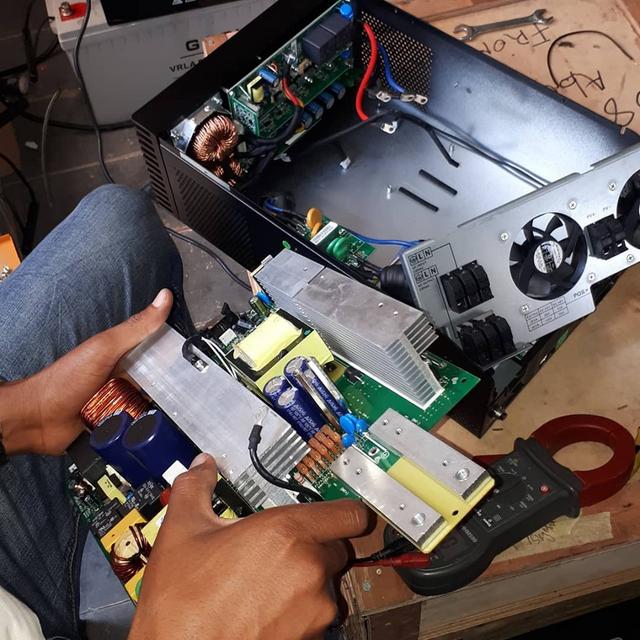 Power problem or Inverter not turning on
Continuous alarm beeping showing various error codes
Inverter not charging batteries effectively
Inverter power and control board repair
Inverter power and control board replacement
Power Inverter working just in Inverter mode
Power Inverter LCD or display problems
Inverter getting too hot
Inverter fan not working
Power inverter not transferring to 'NEPA' or Inverter not inverting
Inverter not charging  on battery mode
Inverter not charging on Generator mode
Burnt Inverter
etc.
How to repair your broken Inverters with Repair.ng:
We have well trained and certified technicians that will fix your inverter and turn it to a brand new one. Use the booking form below to get started and our team will contact you shortly.