Tecno Mobile has recently released a new Android mobile Tecno D5 in the market and this is the full review and specifications or features of Tecno D5 Android device.
Some days back, we reviewed the predecessor of Tecno D5 called Tecno D3 Android device. You can click the link to read that review and have a view of its short coming and what we expected from this Tecno D5 Phone.
Today I sang with, played with and of course almost slept with the new Tecno D5 just to make sure that I bring an excellent review of Tecno D5 to you so that you get a first hand information of the phone you plan to buy or you already own!
Unpacking the phone: Tecno D5 comes with a smart looking typical Tecno rectangular box that has a full colour graphic display of the mobile device that lies inside it.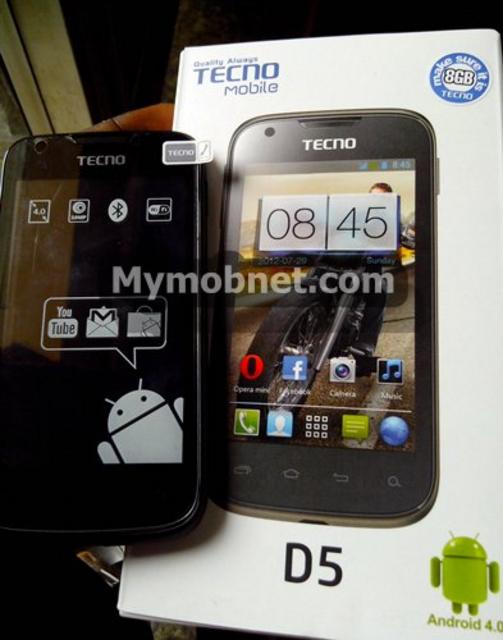 The Make sure it is Tecno sticker at the top left of the pack reminds you that would see a FREE 8GB memory card inside of the box. This is guaranteed by Tecno. When I opened the packet, I saw a cute looking device that longed to be set free from the darkness of the box by hand, of course I lifted it up and the little Android on it smiled 🙂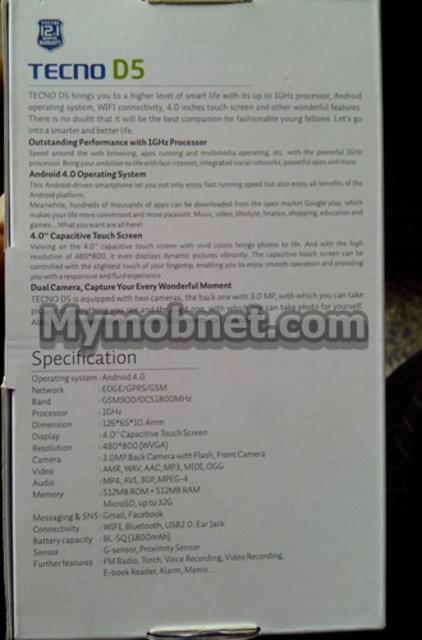 Design: The design of Tecno D5 is superb. It is now conclusive that Tecno mobile, like many Android devices will now always be buttonless so Tecno D5 is no less. The 4 inched screen device is of light weight, slim with rounded corners that will readily slide into your pocket. So Mymobnet! Thinks the design of Tecno D5 is great.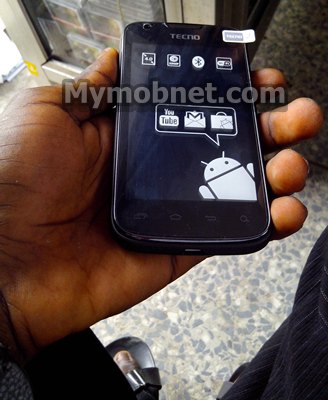 Speed: Tecno D5 Android device has a speed that is not bad at all. The phone is loaded with a 512MB RAM just like the Tecno n7 and we don't think it's is a purely bad idea. So the speed is okay. Camera takes about 3 seconds to boot and other apps responds quickly. Did we just say that Tecno D5 is a great phone? Of course NO!
Camera:  If you wanted a phone that takes great pictures then I'm afraid that Tecno D5 isn't for you! It comes with a 3MP back camera with flash. The flash of Tecno D5 is not completely useless because it adds some lightening effect in a fairly dark environment. But the camera generally will not take an excellent image except in a well lightened (or daylight) environment. The camera is poor!
Internet connectivity: It may not be fair to state clearly here that Tecno D5 will soon be inconsequential in the Android phone market. Little good can be said about this phone as long as surfing the net is concerned and I tell every one now that Tecno D5 Android device has no 3G support! Last time when I reviewed Tecno D3 I shrewedly asserted that we hate Android phones with no 3G but now I plainly declare that an Android phone with no 3G support is slightly greater than a Java phone. We hate it Tecno! 🙁 Please we need 3G phones even if it means adding extra bucks to the price of the phones!!!
Tecno D5 alternatively has a WI-FI support, so there is still hope of getting a high speed connection on the go.
Display: The display of Tecno D5 is superb. It is at least better than Tecno n7 because it is a 4" device with a 480*800 resolution.
Internal storage: The in built memory is same as the Tecno D3 but 512MB isn't too bad.
A lot can be said of this Android device from Tecno. A lot of people have believed fake specs of the phone from unconfirmed sources. Now look at the official Tecno specifications and features of Tecno D5:
TECNO D5 ANDROID PHONE: FULL SPECIFICATIONS AND FEATURES.
Camera:                      3.0 Mega pixels with flash, front camera
Operating System:     Android 4.0 Ice Cream Sandwich
Screen size:                 4.0  Capacitive touch screen
Dimension                  126*65*10.4
Processor:                   1Ghz duo core
Internal Storage:       512MB ROM expandable to 32Gb and free 8Gb memory card
RAM:                           512MB
Connectivity:             GPRS, EDGE (GSM 900/1200)
WI-FI and BLUETOOTH 3.0 SUPORTED
DUAL SIM:                  Yes
Battery:                      BL-5Q 1800Mah
Sensor:                        G-Sensor, Proximity Sensor
I got the price range of Tecno D5 at N12,000 to N13,000.
I have given you a detailed review of this phone. You may want to buy it now or wait for a better one. Follow me on Twitter and Facebook page and also subscribe to our latest posts below to get the latest articles delivered to you for FREE!
[subscribe2]